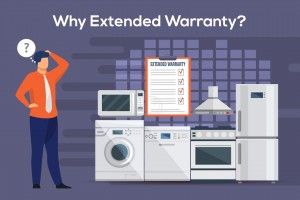 An Extended Warranty also known as a service contract is an additional year's warranty given to the consumer on their products after the brand/manufacturer warranty expires. The warranty terms are similar to the brand warranty and cover electrical and mechanical malfunctions of the products. An extended warranty may be offered by the warranty administrator, dealer, or manufacturer
Advantages of Extended Warranty Plan
1.Repair and Replacement: – Extended Warranty ensures the high-quality repairs of the product for its efficient and smooth functioning even after the brand warranty expires. The customer can claim repairs/service facilities during the extended warranty tenure. If the service/repairs fall within the warranty terms and conditions, the customer shall get the repair done without spending an extra penny. If the product is irreparable then it is replaced.
2. Saves money and time: – Extended WarrantyContract ensures that the product is covered within brand warranty terms and protects the consumer from heavy repair costs incurred due to appliance failure. Also, it saves the consumer's time of carrying the product to the service center as the trained technician visits the customer's place for diagnoses and repairs without any visit charges. There is a cashless settlement done with zero hassles and paperless work
3. At Home service: – Extended warranty service provides at-home service pan India. The service network is strong to serve the consumers in metro and remote locations within 48 to 72 hours.
4. Flexible Duration: – An extended warranty is provided to the consumer for additional 4 years after the manufacturer warranty expires. The warranty taken for a specific tenure ensures peace of mind to the customer in the event of any malfunctioning of the product.
What is Extended Warranty Plan?
Get Extended Warranty Plan for your Appliances
Why Choose WideCare Extended Warranty Plan
Quality service with affordable plans
Repair or Replacement guaranteed.
Service gave by Authorized trained technicians pan India.
Free Pick and Drop with zero visiting charges at home.
Great peace of mind with cashless settlement and zero hassles.