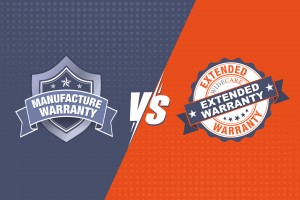 Have you ever wondered about the difference between a Brand Warranty and an Extended Warranty? Well, it's time you'll know it now!
Consumer buys Electronic Goods and Digital Products from a retail or an online shop. These products or device comes with a standard 1-year brand warranty from the date of purchase. Standard Warranty is a drafted assurance by the brand or a manufacturer on the product sold by them. The warranty comes with defined service terms and conditions by brand in case of product malfunctioning.
An extended warranty is an additional warranty given to the consumer after the brand/manufacturer/seller warranty expires. The extended warranty can be offered by the third party, brand, or seller itself.
Extended Warranty Usage Scenarios – A consumer buys an HD LED for Rs. 50,000 which he shall be using for a minimum of 3-4 years. This LED comes with a standard 1-year brand warranty which shall cover electrical and mechanical malfunctions for a year.  But what after the brand warranty ends? What about the high repair cost and damages covered
In this case, an extended warranty comes into the picture. After the brand warranty expires, the extended warranty will cover the service terms against the damages for a plan period purchased by the consumer.