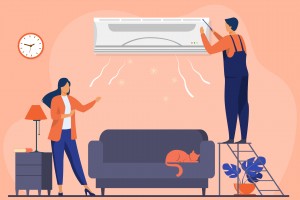 Annual Maintenance Contract is an agreement with a service provider for maintenance and repairing of your home equipment like Air conditioner, Water purifier, and Microwave.
With Your Annual Maintenance Contract, you get the advantage of the immediate time to time hardware and software maintenance at your home at minimal charges. Trained technicians will take care of your hardware and software requirements and make timely integration to keep your equipment's operating in any environment.
Why do we require AMC?
An Annual Maintenance Contract sees proper and smooth functioning of your product at regular intervals in a year ensuring peace of mind to you. It is a contracted service provider that maintains your home equipment's in accordance with rules set out in the contract.
1.Cost-Effective
AMC saves your money and time. As you just have to do a one-time payment for purchasing the AMC Plan after which your product is protected from any hardware and software failure of your equipment.
2.Handled by Experts
Your equipment will be handled by trained technicians by authorized service centers.
3.Timely Service
Service Providers under AMC are Trained professionals who will provide you timely service without affecting your daily routine. To ensure the longevity of the product, they regularly check the items and their safety.
WideCare provides complete protection service for all home appliances and devices.
WideCare's AMC covers all reputed brands and provides timely regular maintenance visits as per plan.
WideCare has a team of dedicated trained professionals from authorized service networks.
And most of all, the plans are in an affordable range.